Macurco Adds Single-Gas Carbon Dioxide monitor to AimSafety Portable Line
Sioux Falls, SD – August 31, 2021 – Macurco Gas Detection, a leading developer of gas detection solutions has announced the addition of a Carbon Dioxide single-gas monitor to the innovative AimSafety portable gas detection line.
The AimSafety by Macurco PM150-CO2 is a low maintenance, rechargeable portable single-gas monitor that protects workers by providing exposure detection for Carbon Dioxide in many different applications. The PM150-CO2 continuously monitors ambient air conditions and provides real-time gas concentrations on an easy-to-read LCD display. A three-tier alarm system warns the user of the presence of unsafe gas levels with audible, visual, and vibrating alarms.
"This product is to fill a gap in our product offering and to support safety in the beverage, agriculture, and other industries where Carbon Dioxide would be used in their daily process. With a low maintenance unit that utilizes proven, robust sensing technology, the PM150-CO2 monitor will be a great fit for these types of applications" said Keith Lincoln, Macurco Gas Detection, Safety Product Manager.
AimSafety by Macurco Gas Detection portable gas detection solutions combine innovation, ease-of-use, fast response time, and data aggregation to help workers and organizations provide better safety, and workplace toxic threat protection, which helps increase revenue and productivity. The AimSafety PM150-CO2 monitor is available from Macurco Gas Detection-authorized distributors. The PM150-CO2 fits well into applications like Grow Facilities and Extraction, and Beverage Dispensing where Carbon Dioxide is heavily used.
The AimSafety line offers portable disposable single gas options in CO, H2S, O2, SO2, or NH3 models, Multi-Gas monitors, and accessories. 
Effects of Carbon Dioxide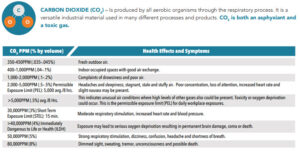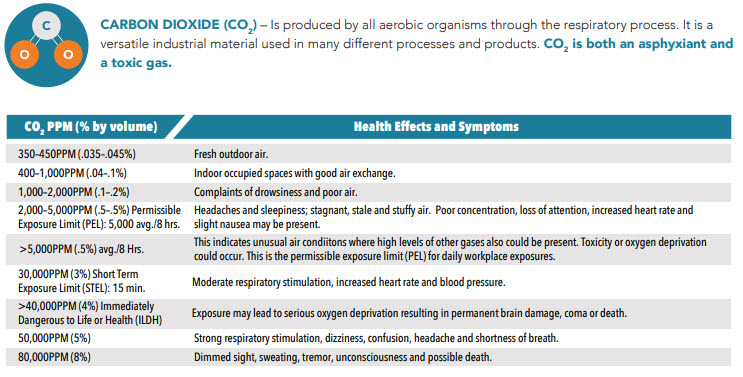 About Macurco Gas Detection
Macurco Gas Detection is a division of Aerionics Inc. Macurco designs develops and manufactures a full set of fixed and portable gas detection monitors for the protection of workers, responders, and the community. Macurco has more than 45-years of proven gas detection experience in residential, commercial, and industrial gas monitoring. Macurco gas detection systems (HVAC, Fire & Security, AimSafety, and TracXP) are widely recognized by distributors and users for their high performance and consistent reliability.
Macurco is based in Sioux Falls, South Dakota. Learn more at www.macurco.com.
For more information about the PM150-CO2 please contact Macurco at 877-367-7891, email us at [email protected].