Ammonia
June 22nd, 2023, Sioux Falls, SD –
Ammonia (NH3) is a colorless gas with a pungent, suffocating odor. Ammonia (NH3) is found throughout the environment in the air, soil, plants, animals, and humans.
Symptoms of Ammonia poisoning can be a cough, chest pain, burning of the eyes, nose, throat, and respiratory tract, difficulty breathing, and wheezing. Ammonia is lighter than air, so the recommended mounting level is roughly 12″ from the ceiling or highest points of an enclosed area.

Ammonia Gas Chart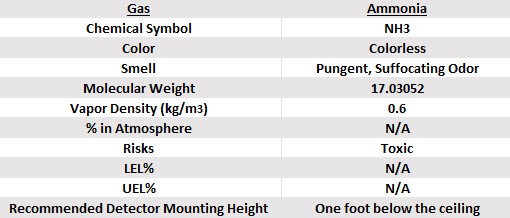 Macurco Common Applications
Wastewater Treatment Plants
Water / Wastewater treatment facilities take disturbed or unhealthy water and make it environmentally safe. This water, which can contain chemicals, oils, and human waste, endures a process of treatment and purification that utilizes chemicals and toxins that can potentially threaten personnel at the facility or the facility itself.
Links / Resources
Macurco Fixed Monitors
Industrial / Portable Gas Detectors
About Macurco Inc.
Macurco Inc. designs, develops, and manufactures a complete set of fixed and portable gas detection monitors to protect workers, responders, and the community. Macurco has over 50 years of proven gas detection experience in residential, commercial, and industrial gas monitoring. Macurco gas detection systems (HVAC, Fire & Security, AimSafety, and TracXP) are widely recognized by distributors and users for their high performance and consistent reliability.
Macurco is based in Sioux Falls, South Dakota. Learn more at www.macurco.com.
For more information about Macurco products, applications or gases please contact Macurco at 877-367-7891 or email us at [email protected].