Nitrogen Dioxide
October 21st, 2022, Sioux Falls, SD –
Nitrogen Dioxide (NO2) is a toxic gas comprised of nitrogen and oxygen in a group of related gases called nitrogen oxides. Nitrogen Dioxide is a red/orange, pungent, and highly reactive gas formed from the burning of fossil fuels. Examples of fossil fuels related to NO2 are coal, oil, gas, or diesel burned at high temperatures; the main source of emission is diesel-powered vehicles.
NO2 exposure concentrations are of particular concern for susceptible individuals, including asthmatics, children, and the elderly.
Effects of NO2
Nitrogen Dioxide has both human and environmental effects.
Human effects: Consist of breathing air with a high concentration of NO2 can irritate airways in the human respiratory system. Short exposure to NO2 can aggravate respiratory diseases that can lead to coughing, wheezing, and hospital admissions. Longer exposure can lead to severe respiratory problems such as lung cancer.
Environmental effects: Consists of molecules that are made of nitrogen and oxygen atoms. These nitrogen oxides contribute to the problem of air pollution such as acid rain (which harms lakes and forests), visibility/haze (which makes it more difficult to see outdoors), and nutrient pollution (which causes air and water to become polluted/contaminated).

NO2 is mainly found in diesel-powered vehicles such as cars, trucks, and buses. Other NO2 gas sources come from power plants and off-road equipment.
Nitrogen Dioxide Gas Chart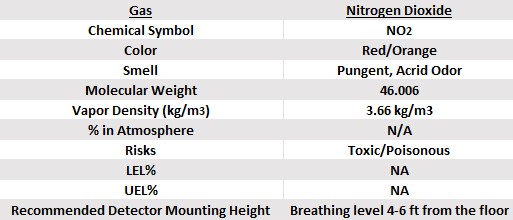 Macurco Common Applications
About Macurco Gas Detection
Macurco Gas Detection is a division of Aerionics Inc. Macurco designs develops and manufactures a complete set of fixed and portable gas detection monitors to protect workers, responders, and the community. Macurco has 50 years of proven gas detection experience in residential, commercial, and industrial gas monitoring. Macurco gas detection systems (HVAC, Fire & Security, AimSafety, and TracXP) are widely recognized by distributors and users for their high performance and consistent reliability.
Macurco is based in Sioux Falls, South Dakota. Learn more at www.macurco.com.
For more information about Macurco products, applications or gases please contact Macurco at 877-367-7891 or email us at [email protected].