Sioux Falls, SD – November 21st, 2022 – Macurco Gas Detection, a leading developer of gas detection solutions for fire and security, HVAC, industrial, and personal safety announced its new Carbon Monoxide Monitor (CM-E1 RH) Round Housing Unit. 
Due to the success of our current CM-E1 Carbon Monoxide Monitor, Macurco has released a new modern form factor to meet the high demands of this product. The new CM-E1 RH will meet all the expectations of the CM-E1, but now with a new visual appeal.
The Macurco CM-E1 RH is a reliable, lightweight, and aesthetically pleasing gas detector that keeps you and the people you care about safe from harmful gases in residential and light commercial applications. It is a low-voltage gas detector designed for use with fire and security systems. The CM-E1 RH is UL 2075 Listed for use in residential and commercial applications and is also approved by the California State Fire Marshal.
The CM-E1 RH will have low replacement costs with long-life sensors. This ensures that our products will require low maintenance, with no calibration needed. This will allow our customers to focus on their daily lives while our products focus on protecting them and their property. The Round Housing option will have two form options to choose from, flush or surface mount, and they are made in the United States.
"The CM-E1 Round Housing is the same product as our popular CM-E1, just in a new modern form factor that gives our customers another option if they want to mount the product on the ceiling. The CM-E1 RH protects people and property from Carbon Monoxide, also known as the "Silent Killer." This Carbon Monoxide detector will have the same lead time as our current CM-E1, will have an aesthetically pleasing look, and will have access to our Tech Support team to help with any questions that may arise. The CM-E1 RH is a perfect addition to our portfolio, offering a more aesthetic solution that will benefit our customers.", said Aaron Sherman, Macurco Gas Detection, Product Manager – Macurco Building & Home.
About Macurco Gas Detection
All we do is gas detection, and we do it well; improving safety for people and property is what we do, and we take pride in ensuring our products and our team make sure that happens. Macurco Building and Home products are made in the USA, with short lead times and outstanding customer service and technical teams.
Macurco Gas Detection is a division of Aerionics Inc. Macurco designs, develops, and manufactures a full set of fixed and portable gas detection monitors for the protection of workers, responders, and the community. Macurco has 50 years of proven gas detection experience in residential, commercial, and industrial gas monitoring. Macurco gas detection systems (HVAC, Fire & Security, AimSafety, and TracXP) are widely recognized by distributors and users for their high performance and consistent reliability.
Macurco is based in Sioux Falls, South Dakota. Learn more at www.macurco.com.
For more information about the Gas Boiler Controller, please contact Macurco at 1-877-367-7891 or email [email protected].
CM-E1-RF
CM-E1 Round Flush Mount Carbon Monoxide Gas Detector for use with Fire Alarm/Burglary Controls Panels.
Part Number: 70-2900-1361-9
CM-E1-RS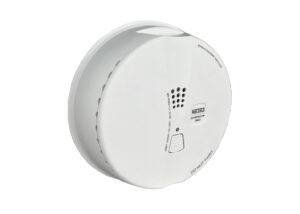 CM-E1 Round Surface Mount Carbon Monoxide Gas Detector for use with Fire Alarm/Burglary Controls Panels.
Part Number: 70-2900-1361-8