Sioux Falls, SD – April 17th, 2023 – Macurco Inc., a leading developer of gas detection solutions for fire and security, HVAC, industrial, and personal safety, announced its new TracXP TXP-WABX (Wireless Alarm Bar).
The TXP-WABX Wireless Alarm Bar is a notification device suitable for Class 1, Division 2 applications. The TXP-WABX communicates directly with TXP-WTA transmitters at line-of-sight distances of up to three miles. Wireless alarm signals are communicated directly from TXP-WTA point detectors or a control panel enabling easy deployment and fast turnarounds. The onboard horn provides a nominal output of 112 dBA with customizable volume control and has 64 different tones available. This powerful sounder is triggered by programmable alarms to quickly alert when in alarm.
"This wireless alarm bar provides our customers with a lightweight and compact solution for audible and visual notifications that can withstand the harshest environments. This product is easily incorporated into new or existing wireless TracXP systems and has a compact package that eases the installation in problematic areas." Jace Krumwiede, Macurco Inc., Product Manager – TracXP & AimSafety.
TracXP is the industrial products division of Macurco Gas Detection, which has been providing gas detection solutions for over 50 years. The TracXP line addresses special hazard applications, including harsh industrial environments and hazardous locations, with a comprehensive line of wired and wireless gas detection solutions.
About Macurco Inc.
All we do is gas detection, and we do it well; improving safety for people and property is what we do, and we take pride in ensuring our products and our team make sure that happens. Macurco Building and Home products are made in the USA, with short lead times and outstanding customer service and technical teams.
Macurco Inc. designs, develops, and manufactures a full set of fixed and portable gas detection monitors for the protection of workers, responders, and the community. Macurco has over 50 years of proven gas detection experience in residential, commercial, and industrial gas monitoring. Macurco gas detection systems (HVAC, Fire & Security, AimSafety, and TracXP) are widely recognized by distributors and users for their high performance and consistent reliability.
Macurco is based in Sioux Falls, South Dakota. Learn more at www.macurco.com.
For more information about the TXP-WABX, please contact Macurco at 1-877-367-7891 or email [email protected].
TXP-WABX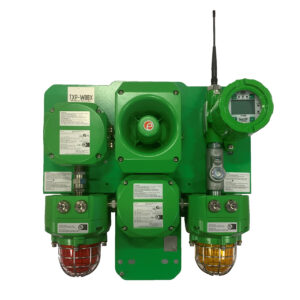 TracXP TXP-WABX (Wireless Alarm Bar)
Part Number: 93-1132-AR00-03